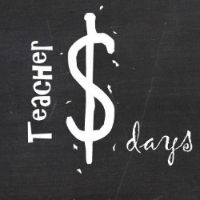 Perfect for summer a pair of sunglasses.
I'm horrible with misplacing my sunglasses or scratching them up.
I got this pair at the 99 cent store so it doesn't matter if I lose them within a week.
This is a handy accordion file from Target Dollar Spot
I'll be sharing how I used this for next week's Monday Made It.
And something fun for a $1.00 from my Teachers Pay Teachers Store
My Teacher Rules Writing
Don't forget about my Blog Lovin Giveaway!